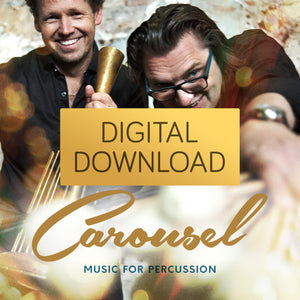 Carousel - Rhythm Art Duo
(High Res Digital Download)
Regular price €30.00 Sale
For their first outing on Marten Recordings, Rhythm Art Duo release Carousel. An eclectic mix of tracks, new and old, recorded with a broad range of talent from Sweden and afar.
On this recording, classical tracks by John Cage and Lou Harrison sit comfortably alongside compositions by contemporary Swedish artists.
Daniel Berg and Fredrik Duvling have developed great relationships with these artists over the last 25 years as a group. Many of the tracks on Carousel were written with them in mind. These relationships are evident in recordings as pure as this where rapport is vital, and live performance is more important than post-production techniques.